Message from Management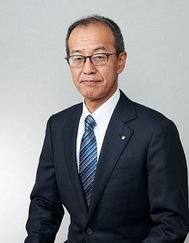 Welcome!
In 2011, Uchida Yoko Co., Ltd., approved a plan to separate their Overseas Department into a new company Uchida Yoko Global Limited and established worldwide business headquarter in Hong Kong and Tokyo. This separation is providing our business the flexibility and focus to adapt quickly to market and customer needs. Then in 2021, both offices are divisionalized as two individual companies Uchida Yoko Global Limited (Hong Kong) and Uchida Yoko Global Co., Ltd. (Tokyo).
We carry a wide range of products from digital-finishers, small-scale packing machines, stationary, office and institutions furniture, educational equipment and ICT products.
It is the Mission of two companies as UGL group to procure excellent products to Japan from the World as well as to provide excellent products from Japan to the World. Our knowledgeable and professional staff looks forward to inspire, educate and provide services to a global customer base.

Sincerely,
Toshiji Hayashi
President of
Uchida Yoko Global Limited and Uchida Yoko Global Co., Ltd.
About Us